Salon DeJa Vu Diva Parties!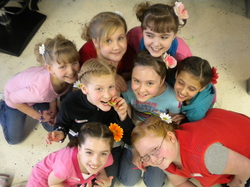 Let us tell you a little about our parties...
Here at Salon DeJa Vu , we love to have fun! We think our birthday girls are very special and that is just how we treat them and 7 of their luckiest friends!
We hold our parties on Saturdays from 4-5:30 after regular salon hours
so your Divas have the salon to themselves to party!
We will primp up your little beauties with their choice of 2 of the following, a party hair do, mini manicure, body glitter tattoos or Hair Tinsel.


Celebrate....
Literally! For an additional $40 ,your party Divas will find themselves in the Sunday section of the Celebrate in the Lincoon Journal Star! We will take their glamour shot and send it on it's way to the newspaper!
Want to book your party?
These parties book up fast, so call today to get yours reserved! We do require a 50% non-refundable deposit to hold your party date. Party cost is $225. We will also give you little appointment cards to enclose in your invitations to let your Divas know how to be prepared for their party fun!
Did someone say CAKE?
Yes, that's right! CAKE! Every party Diva needs cake! Feel free to bring in a cake, or any other kind of treat you'd like to serve your party girls, as well as drinks, plates, napkins etc. etc, that match your special party theme!
Thinking of a smaller party?
Just a few friends? We can offer the same party fun for your birthday girl and 3 of her friends for just $37.50 per Diva. These parties are held during salon hours, and include a party hair do, and mini manicure! Unfortunately this option does not work well with party treats or gift opening.
Please call the salon if you have any more questions, we would love to talk with you, or mail you some info!


---